Pickleball in Cancun for RDU Players
June 22nd - June 26th Direct Flights to Kempinski Cancun Resort
Welcome to Destination Pickleball, the ultimate resource for your next pickleball adventure! Our mission is to provide customers with a safe and enjoyable pickleball experience at international destinations. We offer our guests DUPR sanctioned tournaments, exclusive events and flights to select destinations that are rich in pickleball culture and lifestyle. We have a wealth of resources and tools at your disposal, from safety protocols to resorts that are friendly to pickleballers of all skill levels. Whether you're an experienced player or just starting out, we'll make sure that you have everything you need to create an unforgettable journey filled with wonderful memories. So come join us in discovering the world of international pickleball on your next vacation!
Destination Pickleball offers custom tailored experiences for DUPR-sanctioned Pickleball tournaments, camps, and events near Raleigh-Durham International Airport (RDU). Our services include transportation, meals, excursions, and accommodations ranging from 5-diamond to 4.5 star resorts. We also offer a variety of activities and attractions in the North Carolina area designed to give pickleballers an unforgettable experience.
This 6-day package includes:
DUPR Sanctioned Tournaments in Cancun June 22nd – June 26th
Direct roundtrip from Raleigh to Cancun for $550
Organized and supervised by Destination Pickleball
Select Pickleball hotels and resorts
Early-bird registration for significantly discounted rates
Complimentary round-trip shuttle service to/from the airport
Organized activities and outings
Discounted tickets to local attractions
Experience:
Safety: Regardless of age and gender, feel confident when traveling internationally by yourself. We can take care of airport transportation (If you let us!).
A peace of mind: Rest assure that your meals will be tasty and healthy, water-quality standards will be met, and your rooms will be sanitary and enjoyable.
All tournaments and events include free entry fee into all tournaments divisions: doubles and mixed doubles.
Fight prices to Cancun!
Interactive flight pricing calendar.
See the cost of flights from your area!
Prices for two people roundtrip to Cancun!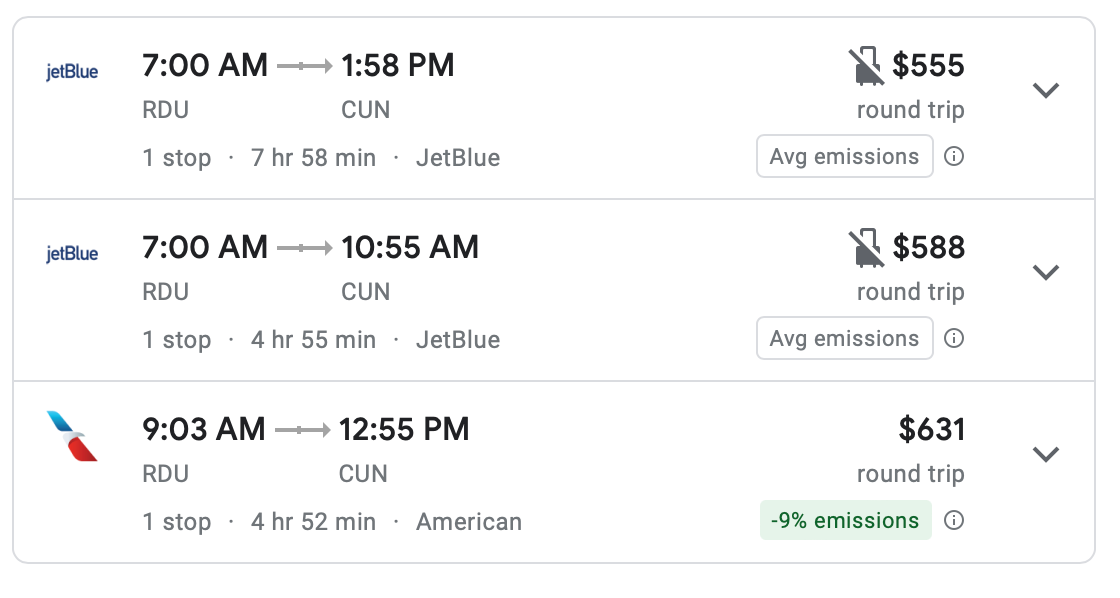 Prices for one person roundtrip to Cancun!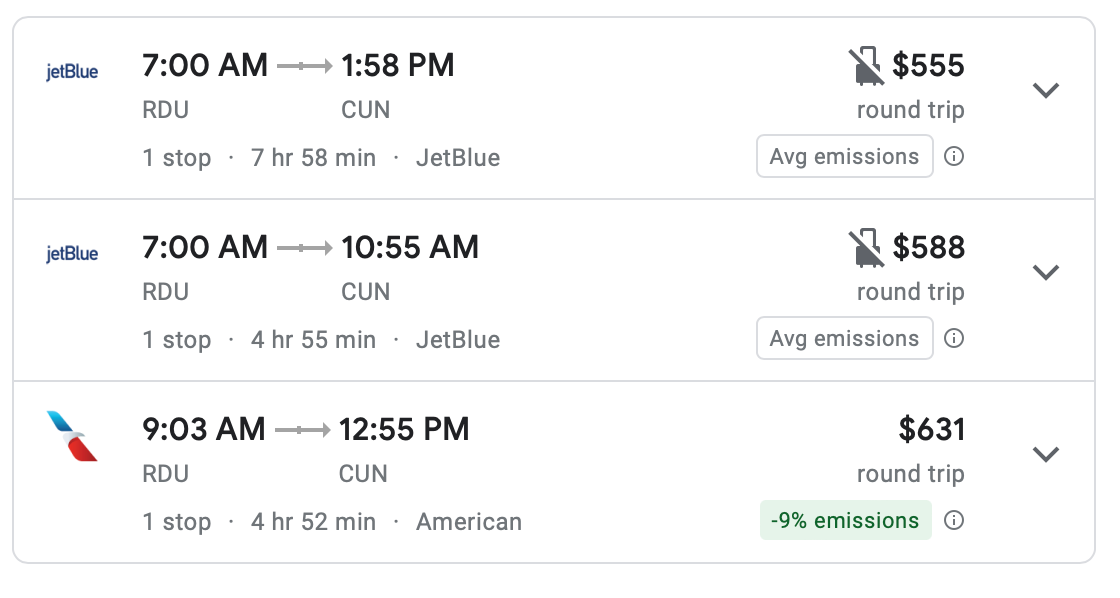 Our goal is to make it easy for Picklers to travel and play in international DUPR sanctioned tournaments.
Compete and making friends around the world!
See you in Cancun!
Explore Cancun with Our Pickleball Vacation Planner
Are you ready to plan the ultimate pickleball vacation in Cancun? Look no further than our Raleigh-based Pickleball Vacation Planner! We offer the best flights, accommodations, and local activities to make your Cancun getaway the best it can be. From luxury resorts with private pickleball courts to discounted all-inclusive packages, we've got you covered. Read on to find out more about our amazing trip planning services.
The Best Flight Deals from Raleigh to Cancun
Finding the perfect flight to your pickleball destination just got a whole lot easier with our Raleigh-based Pickleball Vacation Planner! We search for the best deals on flights from Raleigh to Cancun to make sure you get the most bang for your buck. Whether you're looking for a quick weekend getaway or an extended stay, we'll help you find the perfect flight.
Accommodation Options for Every Budget
Whether you're looking for an all-inclusive resort with a pickleball court or a luxurious private accommodation, we have options to suit every budget. Our Pickleball Vacation Planner takes the guesswork out of finding the perfect place to stay in Cancun. We'll help you find the perfect place to rest your head after an exciting day of pickleball.
Explore the Local Activities and Pickleball Tournaments
Cancun is the perfect destination for pickleball lovers! Our Pickleball Vacation Planner can help you find the best local activities and pickleball tournaments in the area. We'll provide you with all the information you need to make the most out of your pickleball getaway.
Visa and Health Requirements for Cancun
Before you plan your pickleball getaway in Cancun, make sure to read up on the visa and health requirements. Our Pickleball Vacation Planner has all the information you need to make sure you have a safe and enjoyable trip. We'll provide you with the best tips and advice to make your trip as stress-free as possible.
Start Planning Your Pickleball Getaway Today!
Ready to start planning your pickleball getaway in Cancun? Our Raleigh-based Pickleball Vacation Planner has everything you need to make your trip a success. From finding the perfect flights and accommodations to discovering local activities and pickleball tournaments, we'll take care of it all. Contact us today to start planning your dream pickleball vacation in Cancun!
1. Flight Deals Comparison:
Travelers can compare flight deals to find the best prices for their pickleball destination.
2. Accommodation Booking:
Travelers can book accommodations to suit their budget and pickleball needs.
3. Local Activity Listings:
Travelers can find out about local activities and pickleball tournaments happening in the area.
4. Luxury Accommodation Options:
Travelers can explore luxury accommodations with private pickleball courts and all-inclusive resorts with pickleball courts.
5. Travel Tips & Advice:
Travelers can get information about the best travel tips for their particular destination, such as visas and health requirements.